Challenge
First introduced in San Jose, USA, QuickBooks Connect (QBC) is Intuit's flagship trade show. Intuit was looking to scale the QBC event property to Canada.
Approach
We introduced QuickBooks Connect to Canada, starting with Toronto, Vancouver, and Calgary. Our scope was end-to-end from staging and AV to VIP customer concierge.
Flanked by 26 projection-mapped surfaces shaped to the brand accents, our center screen spanned 100′ as the hero for content and provided a multitude of options to play with color and light for a spectatular entrance to the event.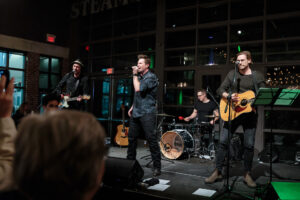 We designed and produced templated sponsor booths to maintain a consistent look and allow for sponsor tiering (larger booths for premium sponsors). Additionally, we designed and produced Intuit's hero booth to showcase QuickBooks Online as well as its sister products ProFile and Turbo Tax.
Our welcome reception took place 1,500 ft. in the sky at the CN Tower's 360 Restaurant in Toronto. Located only steps away from the CN tower, a connecting bridge provided attendees with a smooth transition back to the Accountant evening party.
We provided a white glove concierge service for 30 top customers, offering private 1:1 support including, event invitations, event confirmation, travel booking, hotel booking, on-site transportation, itinerary management, entertainment, catering & refreshments, and post-event communications.
Impact
Across all markets, we saw 2,500 attendees and were globally celebrated for the highest NPS score when compared to its Canadian predecessor flagship event, (Intuit Thrive).