Challenge
Microsoft was looking to support their sales teams with accelerating customer pipeline for their mixed reality solution – HoloLens.
Approach
We created MR-1, a highly exclusive, invite-only accelerator program for industry elites who were looking to accelerate their digital transformation journey.
Strategically selected customers were given a unique opportunity to work directly with the HoloLens engineering team in Redmond to envision a mixed reality solution for their business. Customers walked away with a concrete demo application that they could showcase to their customers, their vendors, and their employees.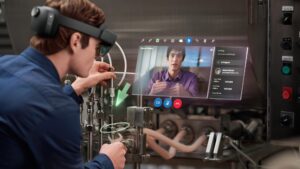 We worked hand-in-hand with the sales team to deliver a white glove customer experience. We produced a series of digital assets to support their personalized customer outreach including email templates, sales enablement collateral, telescripts, and meeting guides. Every part of the customer experience was planned, calculated, and personalized.
Outcome
The revenue generated represented a 10X return of the program investment. MR-1 received three gold CMA Awards for Business Impact, Personalized Engagement, and Innovative Media, and a silver for Digital & Tech.