Challenge
HP was looking to drive excitement for their latest Z product line at priority channel partners. They needed to standout in a sea of flashy SPIFFs and special offers.
Approach
We developed a new sales enablement kit called Show and Go.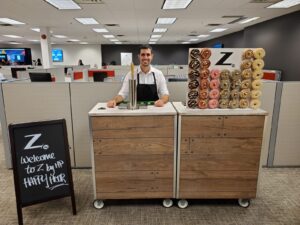 To start, channel partner sales teams were sent a "choose your adventure" promotional email, allowing them to vote for either a Nitro Cold Brew Bar and Craft Donut Wall or a Vintage (Root) Beer Cart and Float Station experience.
The selected experience was augmented with a dynamic walk-through of HP's Z line led by an HP product expert and an influencer video artist. Live caricature portraits were generated on site, using Z line devices
Impact
HP measured a near 40% increase in overall Z line product knowledge. Increased familiarity was correlated with revenue growth of 154%, across partners who participated in this program.